Natural allergy remedies
Natural allergy remedies for home treatment included hot baths, dietary restrictions, nasal flushes and herbal remedies.
The old-time doctors often referred to allergies as "hay fever" or even "asthma." If an allergy involved swelling and redness of the eyes and increase in temperature it was called hay fever.
If there was difficulty breathing, coughing or nasal congestion without eye involvement or fever, it was considered asthma.
Herbal allergy remedies
Artemisia vulgaris, also known as mugwort or common wormwood. To be made into a sixth dilution and taken in pill form once a day, or in doses of one drop four times a day. Use during the season prior to allergies, to bolster immunity.
Lobelia tea, drunk in moderation
To calm asthmatic breathing, smoke or inhale the fumes of burning mullein leaves
Read more about natural asthma remedies here.
Other natural allergy remedies
Change of climate, to a warmer, drier location
Taking hot baths frequently
Diet free of sugars and rich foods
For nasal congestion, snuff salty water into the nostrils and allow to drain out
An easy, safe natural remedy for allergies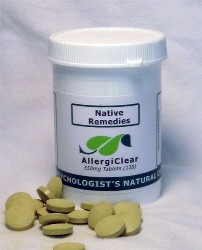 ALLERGICLEAR is a 100% safe, and effective natural remedy containing herbal, homeopathic and nutritional ingredients known for their ability to prevent allergic reactions to airborne allergens and to improve your respiratory health.
Taken regularly, ALLERGICLEAR can help you be allergy-free and even eliminate your dependence on synthetic antihistamines with their troublesome side effects.
100% Money Back Guarantee and Fast Worldwide Shipping.
See also: Natural Sinus Remedies
Natural allergy remedies >>>>Home page
Acne
Allergies
Asthma
Constipation
Diabetes
Earache
Eczema
Gout
Hair Loss
Headaches
Heartburn
Hemorrhoids
Polyps
Sciatica
Sinuses
Sore Throat

References
Remedies

Ant Removal

Blog

Contact